If I were you and I was going to start a brand new blog from scratch, this is EXACTLY what I would do… so pay attention! By the end of this article, you are going to learn exactly how to start a blog.
Why do you even need a blog?
Are you like most business owners who have always wondered how to get more sales, get more clients, get more customers or get more leads?
I am guessing that you are, because you have read this far.
You have found the resource that will guide you step-by-step with a no techie BS approach on how to start a blog.
When I was failing at my business, because I didn't have the sales I desired, I realized that it wasn't the company that did not work… It was MY business building activities that were not working…
I realized that if I did not DO anything to change, then neither would the results in my business.
So here's one thing I did to avoid my failure to ignite my business into a profitable entity.
A blog is used to post content relating to your business, your brand and/or your product(s) or service(s)… among other things.
By publishing a blog, you essentially have a website with static information on pages and a dynamic part, called the "blog", which could be updated with new articles as often as you wish to publish them.
"But I don't know how to write articles…"
"I don't have anything to write about…"
"I'm not a good writer…"
All three of these statements I have actually said MYSELF!
Have no fear! I have a resource for you that will show you, step-by-step, on how to never run out of things to write about! (I promise to share this with you a little later in this post).
In blog articles, you could write about your product(s), your service(s) or niche specific information pertaining to your business… This is where the real magic happens!
Your goal is to get more sales, customers, leads, clients & sign-ups… right?
To do this, you need to become the "hunted".
I used to hunt and hunt and hunt for people to join my business or buy my product(s) & service(s)… Not any longer. The reason why I no longer am the hunter is because IT DOESN'T F'ing WORK!
Buying leads and cold calling, DOES NOT WORK.
You know it does not work because YOU are reading this article! Are you ready to learn the little secret that actually does work? I thought so… keep reading!
I know the pain you have gone through, because I've been there.
I have picked up copious amounts of business cards off of counters at stores and posted flyers EVERYWHERE, hoping that the cold market prospects would be open to using my service(s)/product(s) or even to be open to opportunity.
THIS is called being the "hunter".
It is NOT effective and made me want to quit after every "no" I was dealt.
You have been feeling the same way and are looking for a way to finally become someone who people call to order your product(s)/service(s) or even to partner with you in business.
It's not your fault that you were not exposed to this simple, step-by-step, no-techie proven approach to becoming hunted by people actually looking for your product or service or even looking to join your opportunity.
You are about to see what you need to do to start being found online by the billions of people who search on Google every day for EXACTLY what you have to offer!
Decide What To Blog About
So you decided to start a blog because it makes perfect business sense on increasing the traffic and eyeballs to your business.
Now the question that I asked myself and you are asking yourself now is, "What do I blog about?"
This is something that must resonate with you. If you decide to blog about something in particular, it must be something that you have a passion for or you will eventually burnout on "trying" to develop content.
Most people blog about things that have a positive influence on their life, which translates into value that spills over into other people's lives.
Topics that you may consider, but are NOT limited to, include business development, interior design, health and wellness, "How To" topics, carpentry, adventure travels, cooking recipes, homeopathic remedies, yoga… The list goes on!
Decide On a Domain Name
Picking a domain name is an important step because this is part of what you will use to brand yourself and/or your business. Your domain name needs to be something that resonates with how you want your "brand" to be seen.
In most cases, it is easier to brand yourself than a "business". The reason for this is because you already have a network of people who know you. So getting your name out there has already begun.
Branding a business name is possible, as well. You may have one initial hurdle to build brand identity so that people start to recognize what it is that business name and image represents.
I chose the name BrianGarciaLive.com because it incorporates my name and represents being LIVE, active and ALL UP IN YOUR FACE with content that you can actually use in today's world! And as the online marketing world changes, so will my content so that I can bring you the most current, up to date information so that YOU could use it to build YOUR business!
Once you decide on a name, you must see if it is available to buy. I like to use GoDaddy to buy domain names because they are affordable and have a user-friendly website that takes the guesswork out of buying the domain name. This makes it easy for ANYONE who has the idea to start a blog actually attainable.
Feel free to contact me if you need step-by-step help doing this. It's pretty straight forward, but I'll be happy to guide you if you need it!
Choose The Best Blog Platform
I have found that not all blogging platforms are created equal and you have to choose the best blog platform for your needs. Many "drag and drop" platforms are clunky and you may not get the results that you are visualizing. And many may not have the features or documentation necessary to show you EXACTLY how to build your blog out step-by-step with no techie crap or coding.
So what worked best for me and what actually produces results is using the step-by-step training found here with My Lead System Pro (MLSP) Mastery Membership.
With MLSP, you are going to learn more than just how to put together a blog. You are going to learn how to properly & professionally use attraction marketing to make yourself found online by the billions of people doing internet searches every day.
Just because you have a blog, doesn't mean that you'll get traffic… This is why I say blogging platforms are NOT created equal.
With MLSP, you will have all the video classes and documentation to take you through setting up a blog that actually attracts your target audience STEP-BY-STEP.
You are looking for how to start a blog and I am showing you EXACTLY how to do it without the headache of poorly setup platforms.
I have been in web development for well over a decade and have never seen any blogging platform as user-friendly OR with the step-by-step, no techie coding BS, like I have with MLSP. (You are looking for the golden goose and I have just shown you one that is pooping golden eggs daily).
Even though you may be saying, "I had a blog once and I never got results from it…" you just didn't have the tools available to you that showed you what to do to actually make it work properly.
YOU no longer have that excuse because it is all laid out step-by-step!
(Ploop! Golden Goose Just Crapped Out Another Golden Egg!)
What I had ALWAYS wondered, and what you are wondering now, is, "how the heck do people who 'blog for a living' actually make money doing that?"
I used to think that those who blogged for a living had websites that were just crammed full of ads that you could not avoid clicking because they are EVERYWHERE… < == THIS is not a professional way of actually achieving your desired results. And, frankly, I do not visit those sites because they drive me nuts!
So by picking a blogging platform that teaches you step-by-step on exactly how to build it without costing you a small fortune, you will accomplish the ability to be found online by your specific target audience.
Imagine, just for a moment that you no longer had to cold call prospects and that people would be Googling for answers on your niche and YOUR website comes up… Your blog provided them with the information that THEY were needing and it actually looked professional!
YOU could achieve this… Anyone could!
The question is NOT can I do this…
The question is WILL you do this?
You are now in a place to take the next step, which will finally launch your business to the next level. The thing that is holding you back from your success is your ability. Now… considering just how straight forward, step-by-step with no-techie coding necessary, anyone could achieve this. EVEN YOU!
How To Start A Blog Step-by-Step
The next step in the process is to begin building your blog!
Most people start shutting down at this point because of all the headache of trying to figure out what all the technical jargon means…
Go ahead and wipe your slate clean because there is a simple, step-by-step approach that will show you as you watch the training video, what to click on at what time.
When you log in to your MLSP Dashboard, you will follow the step-by-step video lessons that will show you exactly what to click on to make your blog appear online, how to select your layout, how to add pages & posts, how to add images, how to add call to actions, how to add widgets, how to use the plugins… The list goes on! You will learn all this in the order that is necessary to actually build out the blog!
I know it sounds like I just repeated myself a couple of times there… I did that on purpose…
The reason for that is because I have built a ton of websites using code… There is nothing step-by-step about that. It is a pain. It made my head hurt. Not anybody could do it…. Hell! Turns out I didn't even want to do it!
With the easy to navigate platform that MLSP has set up and synched up to the Word Wide Web, you will experience peace of mind that your site will be up and running as quickly as you can go through the videos, step-by-step.
When I started my blog from scratch, I went ahead and purged my knowledge because I wanted to see just how straightforward the process was. I followed the instructions in the videos and my site was up quick… to be honest… I had it built out completely in 2 days.
Now, some people are perfectionists and feel that they must make their sites PERFECT! I get that… because, I too am a perfectionist.
My point of getting it up quickly was to prove to myself and to others that you really can have a great looking blog with minimal customization with the plugins & widgets that are recommended during the setup.
Ah crap! I just used a "techie" term… PLUGIN & WIDGETS…
Hey… Guess what??? Once you are setting up your blog, the video training will show you exactly what plugins and widgets are and how they are used…
Get Eyeballs On Your Content
Your fortune is in your list!
But if you just launched a blog, you may not have a list yet! Time to show you how to get people to look at your goodies.
Google! < == That's one sweet search engine & it is the all-knowing!
If you are looking for dog toys, you probably have searched in Google and found some for sale on someone's website.
If you are looking for How To Start A Blog, you probably have searched that exact phrase and this website appeared along with others.
The search terms you type into Google are called "keywords".
When you write a blog post or website page for your specific niche, you are using words. Those words in your blog or website are looked for by all the search engines.
So when you post a new blog article (aka "blog post"), there are words all over that article that are searched for by the search engines.
If YOUR post has the words that other people are searching for in your niche, then YOUR website or blog will start to show up in their search results!!!
You will learn how to do a keyword research so that your blog will start to rank high in the search results. This is one of the step-by-step trainings that you will complete during your blog setup in MLSP.
To Summarize…
Decide What To Blog About
Decide On A Domain Name
Pick a Blogging Platform That Is Step-By-Step
Build a Blog Step-By-Step
Get Eyeballs On Your Content
By now, you are ready to launch your blog and are ready to take the next step.
To Get Started Now, click the following link to take the $9.97 MLSP Mastery Risk Free 10 Day Test Drive where you will have UNLIMITED access to the attraction marketing training and step-by-step blog setup training.
You have been trying to get results and failing long enough.
Stop "trying" to figure out how to get results in your business and jump on board to this proven step-by-step system that will teach you to market yourself and your business professionally.
p.s. As promised, below is Ray Higdon's Ultimate Blogging Bundle where you can learn how to never run out of things to write about. This is how I learned to do it. Anyone could learn it, even you!
BUILD YOUR BLOG & BRAND NOW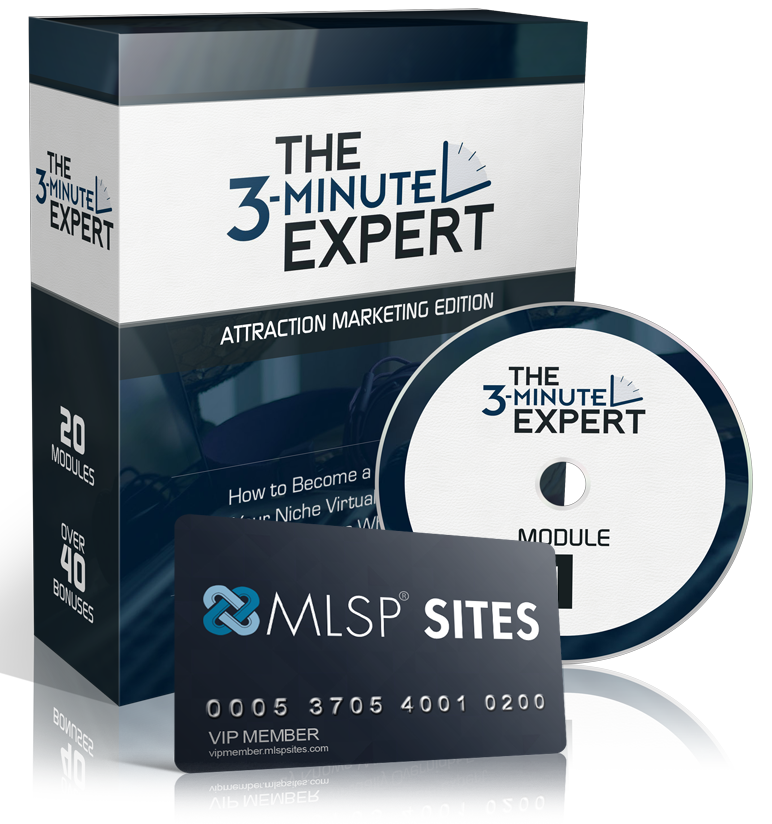 FINALLY an 'All-in-1' Blog Bundle to get a PRO Self-Hosted Wordpress Blog Online in 1 Click, AND Learn from a 7-Figure Blogger
Learn how to build your business on Facebook with this FREE 1 hour 45 minute training. You'll learn how to grow your business and build your brand using Facebook!
Did This Help You? If so, I would greatly appreciate it if you comment below and share on Facebook, or any of your favorite social media pages!
Brian Garcia's Network Marketing Blog
Email: Brian@BrianGarciaLive.com
Facebook – Brian Garcia Live on Facebook
Periscope – Brian Garcia Live on Periscope
Twitter – @BrianGarciaLive

PS: Free 55 Minute Online Training Webinar by Ray Higdon Teaches YOU How to Generate 50 Leads Per Day Using the Internet, Click Here for Access